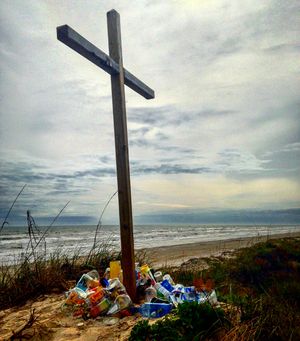 After a virtual songwriting session with my Operation Encore friends, I received an email from Guy Jaquier, one of our boardmembers and a fellow songwriter, regarding a song he'd been working on. He'd just finished reading the book "Grim Journey" and was traveling through the area of the Donner Pass as he penned the lyrics to a song called "This Journey Never Ends" and wondered if I might be interested in working on it with him. 
After listening to a simple sketch of the song, I got my hands dirty and tried to put my stink on it a little. The song took a darker turn, and became almost an epic funeral dirge. As we bounced the song off of Adam Rossi at AR Audio, he suggested a slightly more upbeat tempo, with a good old-fashioned jam at the end. Along with Vincente Rodriguez, Kevin White and James Deprato, Adam and the dudes put together a tune that blew me away the first time that I listened. My very first thought: "I can't wait to play that live!" 
I'm incredibly proud of this tune, and the work that Guy and I put into it, the magic that Adam, Kevin, James and Vincente created, and the way that it all came together to create this kickass song. I hope you'll dig it. Ladies and Gents, I give you "This Journey Never Ends" by Guy Jaquier and Steve Wilson.