SPOTIFY AND GREED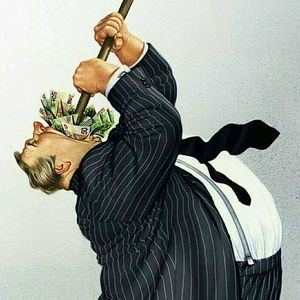 Gentleman, 
First, I would like to introduce myself.  My name is Steve D. Wilson, and I've been an artist on your platform since 2015.  I've been part of the massive change in the musical landscape since 1997, when I used my Yahoo account to create my own "site" on Geocities, which eventually became its own website (stevewilsononline.com).  Using distribution services such as Tunecore, and CDBaby, I've been a self-financed, self-released artist on the internet for over 20 years now.  
I realize that probably doesn't mean much to you, as your platform is still including many of my previously released songs and titles under the page of another Steve Wilson.   Despite this, I'm grateful for your service and its ability to allow my music to be heard by many that might never have had access or awareness.  You have a very powerful, and effective platform.  It is a shame that you choose to see the commodity you are selling as your own personal well-spring of slave-labor.  
While it seems your company's executives have cleared around $26.5 million dollars per year between the 8 of you, monthly royalty payments to artists average about $0.006 to $0.0084 per stream.  As I've been the owner of a company, I am quite familiar with the struggle to turn a profit.  With that in mind, while I was operating my company, rather than pay myself an exorbitant salary, I paid my employees and poured that money back into the company.  Unfortunately this was not enough to save it.  Evidently, the theory of the top leadership of Spotify, is to continue to live lavishly on the backs of those who provide them with the freedom to do so. 
While you and Martin take home approximately $9.7 million US dollars per year, I would need approximately 5.5 BILLION streams to reach such a sum.  That's Billion with a capital B.  
Can you please explain how your CFO and board can possibly see this as a fair payment schedule for a product that you do not create, produce, improve or own?  While the artist creates, Spotify exploits. That's a shame. 
Spotify is a well-designed, very user-friendly platform.  As a music-listener, I enjoy the low, monthly cost to stream and save the songs and music that I like into playlists, and I enjoy the convenience offered by seamlessly using it on multiple devices.  Unfortunately, as an artist, I live with a sense disloyalty to myself and my fellow artists, sacrificing principle for convenience.   
It seems that the leadership at Spotify places little value on the product it offers, and it is reflected in society.  As consumers become complacent with the ease of accessing their favorite music monthly at the same cost as a couple of lattes, CD purchases have become obsolete, and concert attendance is at an all-time low.  
Aside from placing a miniscule value on the content that you depend upon for your million dollar salaries, I would truly like to understand how you've done anything to improve upon the trend of piracy started by Napster?  
Your company takes a product that takes thousands of dollars to create,  copies code to place it in a common library, and then sells it for almost nothing, simply to provide it's owners a luxurious lifestyle.  After legislative acknowledgement that this arrangement is unconstitutional and is in dire need of restructuring, in an effort to salvage your comfort, you have chosen to appeal this decision.  We, as artists, saw the passage of the Music Modernization Act as a potential Band-Aid upon an old wound, opened by the greed of app developers.  Your company's decision to appeal the near-unanimous decisions of our nation's electors, leaves us with only one impression: You value your minimal input more than the product you provide.  You believe in yourselves more than the artists that feed you.  
I urge you to reconsider your selfish, and clearly greed-induced exploitation of music artists around the globe, and ask you to sacrifice your love of money for what is just.  Pay your artists for their content on a scale that is fair.  
On behalf of every music creator on the globe, 
Sincerely, 
Steve D. Wilson 
http://www.stevedwilson.com