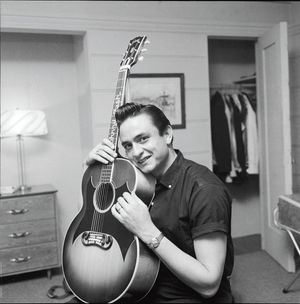 It was April, 1957.  The snow slowly melted around the periphery, the sun was out and the sidewalks were clear.  It was a beautiful, Spring day in Minnesota.  
"I was stationed with this dude in Germany.  He's doing a show tonight in town if you want to head over.  Might be good for a couple of beers afterwards and I'll introduce ya."  
After wiping the sweat from his brow with the handkerchief from his back pocket, Don wiped his hands off and responded  
"Yeah, I'll go along.  Anything to get out of the barracks for a while."  
That evening, the two airman made their way from the Duluth Air Base over to the Duluth Armory.   Nearly 2 two decades prior, the city added a flat, multi-storied structure on the northern side of the Armory containing classrooms, a kitchen, restrooms, and a stage with a fly-loft.  Elvis Presley had two singles in the top 10 that week, but Don's buddy's friend had just dropped a record that week.  "He's a good fella.  Funny as hell.  Smartass.  You'll love him. Song is called "I Walk the Line".  
After the performance, the two young men headed to the parking lot, and knocked on the bus door.  The tall man in black towered over them as he opened the door.  At 6'1", Don was no midget, but this guy made him look like a field goal kicker.  He struck an imposing silhouette in the doorway, yet the grin on his face was welcoming.  "C'mon in fellas!" he said as he backed into the bus inviting them in.   
The conversation continued over a few beers, as they told stories of their brief time in the service so far.   "I was in the Air Force for 8 years" he said with a wink and a grin "from 1950-1954."   
They three laughed and shared their beers, until it came time to head back to the base.   
Don lost track of his buddy over the years, but thought of him often as he saw the man in black on the television and heard his songs on the radio.   
50 years later, he would notice a bumper sticker affixed to his youngest son's car.   
In white letters on a black background, it read 'GOD BLESS JOHNNY CASH'.  
Indeed, he thought to himself, and smiled quietly.  
-SDW